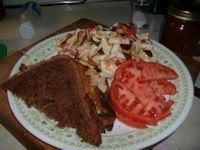 The dark pumpernickel turned out fantastic for my vegan reuben sandwich. Although I have made alot of pumpernickel bread before, my unusual increase of dark cocoa powder in this recipe really changed the flavor. I completed this meal with a fruited caraway cabbage slaw and tomato slices.
Yield: 1 1/2 lb loaf bread machine + one family of four (one supper's worth of sandwiches and two lunchboxes) = only bread crumbs left on the counter
RECIPE:
Add the following ingredients in the order suggested by your 1 1/2 - 2 lb bread machine pan. **
1 1/4 C warm coffee
2 Tbsp olive oil
2 tsp sea salt
1/4 C flax meal
1/4 C dark cocoa powder
2 C commercial spelt flour* (or ww bread flour)
2/3 C pumpernickel or rye flour
2 Tbsp dark unrefined granulated sugar
or black strap molasses
1 1/2 Tbsp caraway seed
1 Tbsp SAF instant yeast
Place on regular cycle and your preference of crust.
NOTES:
* Usually with spelt flour I need to add a little more flour than would be necessary with wheat flour.
** Make sure you check the dough five minutes into mixing to see that it has balled properly. Add more flour or water at that time if needed.